PVC Label Holders and other systems to display documents and signs are key to site safety, as well as keeping product intel, productivity and reporting on track.
We look at five essential products for commercial information display.
Good communication, clear signage and easily accessible reporting methods are at the heart of every safe workplace. Even in the digital age, nothing has replaced physical labels, documents and signs that streamline working practices, by making it easy to locate essential information. Which makes it vital to find a ready supply of versatile display systems, such as PVC label holders.
This must include PVC label holders that work in different locations and carry out diverse roles; fixing easily to everything from metal racking to board room walls. They also need to fulfil their role without falling to pieces or falling off, at just the wrong moment.
Having choices for how signs and reports stick down is also important, such as magnetic, tie-on or adhesive holders you can easily 'pop' in place.
Here are the five PVC display systems for labels and documents – ideally suited to factories, warehouses and any other workplace situations – that won't let you down.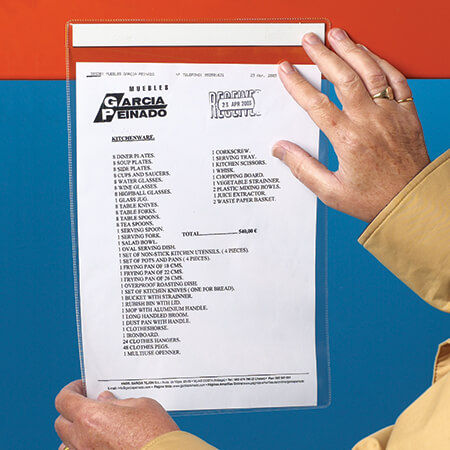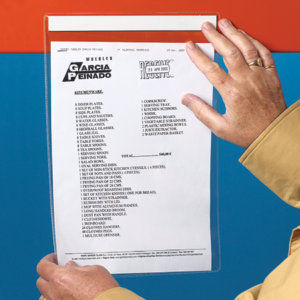 This sort of display item is a staple of any workplace. It keeps documents within easy reach, and clean, but you can slide paperwork in and out swiftly, to add to reports or replace documentation. You could also use clear document wallets to attach to metal shelving, to display safety signs or product intel for example, when it needs to be regularly updated or amended.
We stock self-adhesive document pockets too, and both variations feature welded edges to make them more sturdy. You also have a choice of clear document wallets in A3, A4, A5, A6 or A7 sizes.
Another common workplace display item is fully-adhesive pockets that you can stick down in key locations, for consistent communications. As both the pocket and the glue are strong, our variation stands up to considerable use, even when documents need to be lifted out and then replaced several times a day.
They can hold multiple sheets of paper, and the top one is in full view. Cheap and handy!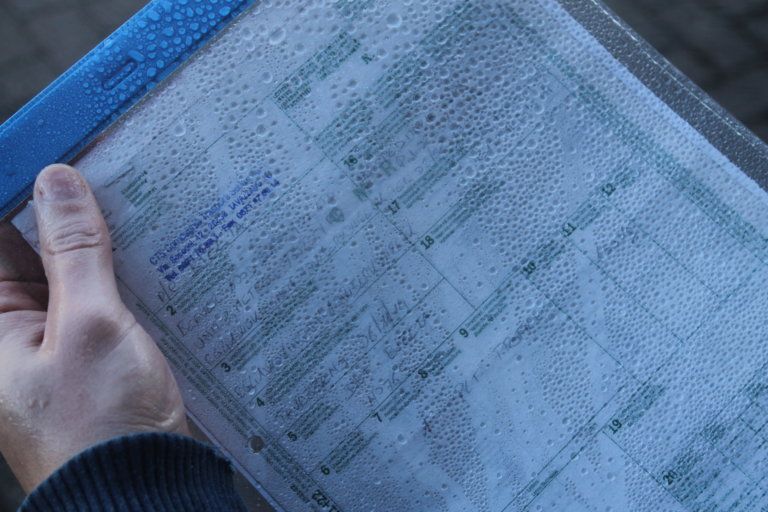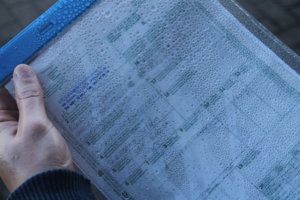 Not all safety and reporting documentation is for indoor use. There are times when you need ways to keep documents dry, clean and usable outside, such as for outdoor racking, at loading bay entrances, on building sites, or in external sports and leisure areas.
Our quality version is press seal fastening so you can make your paperwork wind-resistant too!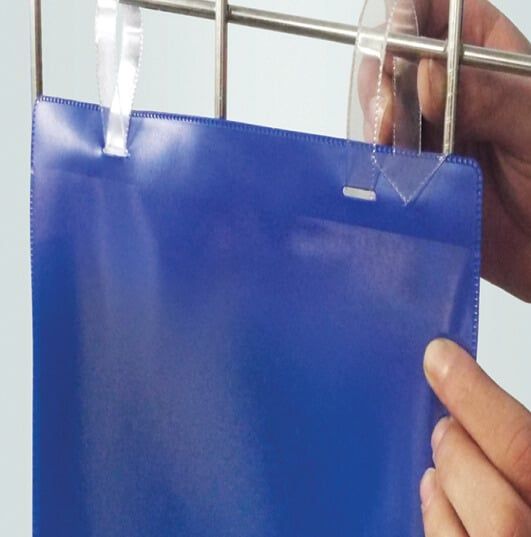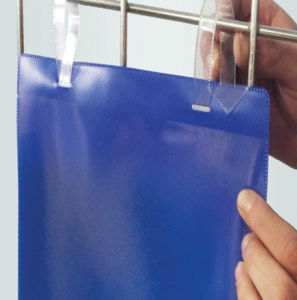 Colour coding reports and procedural information can make commercial communication more effective. Staff can see the paperwork or sign they need at a glance.
We offer a range of tie-on document pockets in five colours and two sizes, and these are ideal to fasten to racking, mesh and trollies, or where flat wall surfaces are not available.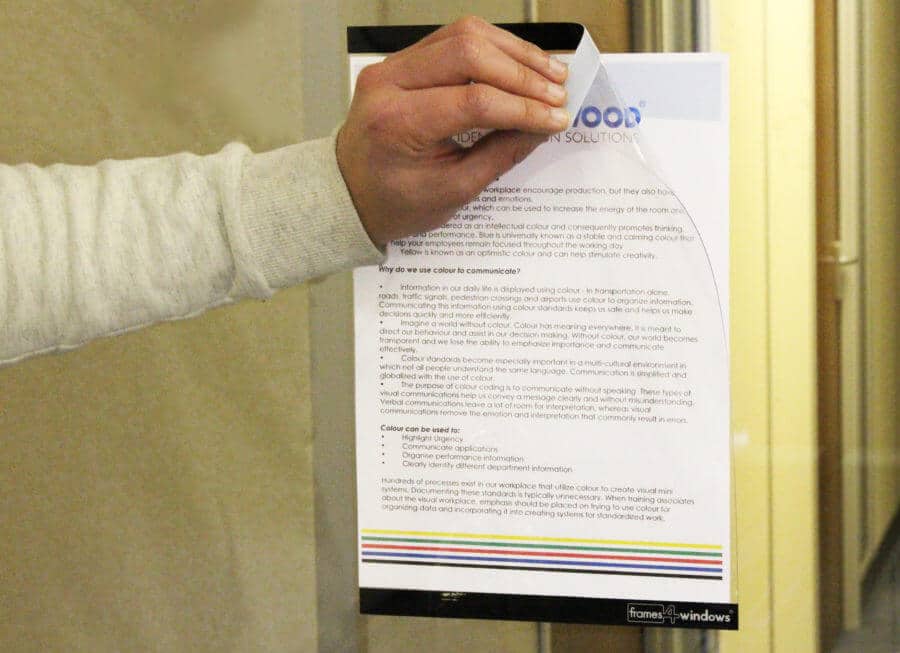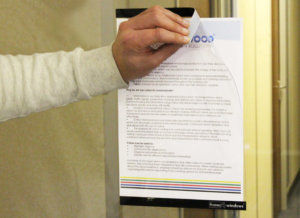 Do you need a system to display important commercial information from two sides? Our re-usable Frames4windows hold paper that can then be seen through windows, and glass doors and partitions, for example. They leave no sticky residue if they need to be relocated.
Practical display solutions for modern workplaces
You can see from the five examples of display pockets above, we provide contemporary companies with everything they need to keep information close to hand and at eye level. Even in tricky environments, or when there is no convenient wall handy to fix signs and reports to.
Look out too for our pockets designed to fasten to wooden cases, roll cages, wire bins and mesh. We are also leading suppliers of certificate, sign and report holding systems smart enough to be used in foyers, shops and other public areas.
Basically, if you need any sort of information posted in your workplace, we have got you covered. Our document display and PVC Label Holders are robust too, so they can be used and moved reliably.
To map out an order for diverse and versatile PVC Label Holders and display systems, please get in touch. We will make our low prices as clear as your workplace information!